custom engineered Hot Runner systems & components
Established in 1984, Melt Design, Inc. (MDi) has quickly become a leader in supplying custom engineered Hot Runner systems and components to the plastics industry. When it comes to Hot Runner systems, your requirements are unique. So are our solutions.
We are proud to be a valued supplier for the mold making and thermoplastic processing industry.
MDi has been providing superb quality and unprecedented value as a supplier of cutting edge technology to the plastic industry.
Why Choose Melt Design, Inc.?
Melt Design, Inc. is proud to be an American Manufacturer. Our company differentiates itself with built-in value. MDi's simplified products/assemblies benefit customers by greatly reducing the need to replace components due to short life or other breakdown reasons.
Value
Manufacturing techniques that over time have helped reduce overall production costs providing our customers with more value with their hot runner systems
Product longevity resulting in no spare part stocking
No time delay, no hot and cold spots, no air gaps
Uniform heat transfer creates better results
One piece steel nozzle design provides better control
Versatility
Our Power Point® nozzle design along with our low profile Ultraflow™ Hot Runner system provides the necessary flexibility to retrofit existing injection molds
Fully encased heating element and thermocouple are protected
Internally heated failure resistance nozzles
Competitive products
Support
Whether it's on or off-site, MDi is there for you. In addition to technical support, MDi carries a full inventory of Hot Runner components
Immediate response to customers needs
Warranty provided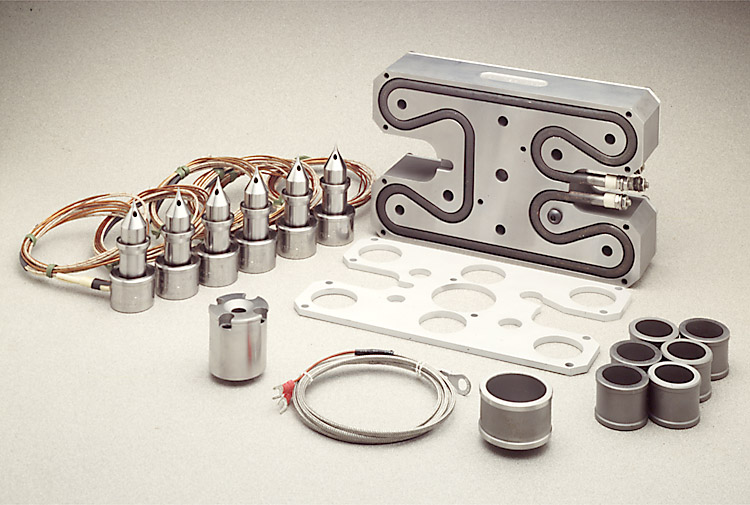 MDi Connect
Melt Design, lnc. specializes in the design and manufacture of failure resistant, internally heated Hot Runner systems and components servicing molders and mold makers since 1984.
Dynamically Balanced
"A balance test was performed on the 2 x24 70mm spout hot runner manufactured by MDI. The calculations show that the system is 97% balanced with all tips at the same temperature."
John Tauber // Berry Plastics Corporation
Reliable Durability
"The 8 cavity mold from Melt Design was a custom tool built back in 2000. This tool runs 24x7x365 and has produced more than 40,000,000 pieces to date. The material we run is S.A.N. The MDI system has proven to be very reliable for us."
Bill Martz // Sun Star Inc.
Perfect Performance
"We re-tested the "LCP connector" mold which has the special nozzle from MDI. The nozzle performed perfectly and we achieved perfect parts. Your advice was absolutely correct and I thank you for the help. I declare this nozzle to be LCP approved."
John Tipton // Tipton Mold & Die Co.
Over 35 years of experience
With over 25 patented products created in that time, we're always looking to innovate.