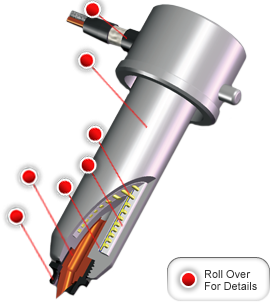 Select a category to view our options
As the interface between the cavity and the melt delivery system, the type of nozzle impacts the gate quality, operating window, and color changing times. Our internally heated Power Point® nozzles prevent nozzle leakage due to the exclusive single piece design of H-13 steel, eliminating stresses and leakage that can occur with multi piece designs.
The nozzle has a dual seal system with a gate primary and a seal secondary. That ensures any accidental leakage would remain around the nozzle without contaminating others or getting into the manifold pocket in the cavity block. The mold can continue running until scheduled maintenance.
The Power Point® nozzle series is a result of our continuous effort to improve hot runner system performance. Based on the patented internally heated design of our Equatemp® Hot Sprue Bushings, the Power Point® line provides both temperature uniformity and various gating options that include topless (direct), sprue, full body, extended tip, multi-tip, hot edge, and valve gate.
Place a request today and our staff will provide an estimate with the best recommendations for your needs. Scroll down to view more details
Product Features
Internally heated uniform heat profile due to the resistance wire with a pre-determined wattage distribution across the nozzle body
Ceramic Insulator compacted near its theoretical limits, ensures highest heat transfer rate, and maximizes heater life
Removable thermocouple can be inserted into a provided thermowell, located at the tip for a more accurate melt temperature reading
Repairable leads if physically damaged
Replaceable Nozzle Tips available:
Extended Tip – Good gate vestige, used where gate is hard to reach
Topless – Good gate vestige, used for processing most materials
Full Body – Low vestige
Through Tip – Good gate vestige and through flow
Sprue Type – Used for feeding runners
Product Benefits
Highest heat transfer rate which maximizes heater life
More accurate melt temperature reading
Design of a gate primary and a seal secondary that prevents leakage from affecting the nozzlewise channels or flooding the manifolds
Used in Caps & Closures and Consumer Electronic applications.